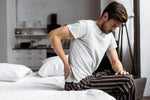 Does just thinking about going to bed make you dizzy? Does your pain get worse after lying down for a while? Do you interrupt your sleep because of back pain? Then you suffer from classic back pain when sleeping or low back pain when sleeping.
This is very common in those who suffer from low back pain such as hernias and arthrodesis. When you have a painful crisis of these diseases the static positions are intolerable. If this is your case, try to change positions frequently or take shorter breaks. In addition, there are people who find relief by sleeping on their stomach.
Now, if you don't have any of these problems and your back still doesn't tolerate lying down, it's time to check your rest equipment. Something in your bed is not right, it deforms the position of the spine and creates tension on the muscles.