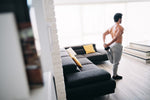 It has been a long year. With COVID-19 we have been confined to our homes and fitness has taken a backseat. We have been forced to learn a different way of taking care of our bodies and because it is easy to stray from a healthy lifestyle, sticking to home workouts has been difficult.
FINDING A NEW ROUTINE
With gyms being closed or limited, it is important to find a new fitness routine that fits a lifestyle that we have been all forced to live. 
Finding your goal is the first step; whether it is weight loss, muscle gain or just A simple Lifestyle change you must set a goal for your body and mind. It takes 21 days to get your new routine down and only one day to break it. Remember to write down your fitness goals and follow it and day by day you will see and feel the difference, and you will not miss the gyms
CARDIO AT HOME
Cardio is a very important step into home workouts. Cardio is known to help you lose and maintain weight loss by doing high intensity workouts. Most people rely on going to work out classes or just the plain elliptical or treadmill that you can find at gyms and at home. However not many of us have that equipment or can take those classes right now. At home cardio routines can be very simple and done without any equipment. doing a high intensity workout at home requires at least 10 different exercises, multiple sets and at least for circuits of that exercise. exercises like jumping jacks, high knees or burpees can help get your heart rate up and it will be like having your own cardio workout class at home. remember cardio is just the beginning, to achieve your perfect routine let us follow with some resistance training
RESISTANCE TRAINING AT HOME
Resistance training can be a very assertive way to build more muscle. It helps build strength by working mainly your muscles, which can be done by using weights. At home resistance training can be done multiple ways. A lot of people prefer weights, which has worked for multiple muscle training. however not all of us have weights sitting at home, nor we want to get them and have them take up a lot of room. The best replacement for weights is the resistance bands.
  Resistance bands come in different lengths which can mimic the weight that a usual dumbbell has.  Manufacturers have been known to color code their resistance band, along with the weight equivalent to a regular dumbbell stamped on the side of the band. Regular exercises with resistance bands can help you maintain the strength in your muscles and even make it stronger.  It can also help you get those target areas like legs, arms and abs just by using them.  There are a variety of workouts that can be done with resistance bands and almost any workout that you regularly do at the gym with machines or weight.  
to end you're at home workout routines, be sure to stretch the muscles you have worked out.
YOGA AT HOME
We are all used to yoga classes.  The peacefulness that you reach during yoga class is mostly done by the instructors themselves.  the tranquility in their voices and of course the assertiveness of going into a yoga class cannot beat a home yoga session, but we must do what we can.  let us start with a small yoga session in the morning. a 10-minute yoga just in your living room before your morning coffee or your zoom meetings, can help get your day started.
Having a small 30-minute session after your resistance training or your cardio workout is vital for your body to heal from those workouts. Remember to always find the perfect spot in your home.
SUPPLEMENTS
An important part about having a routine is not only gettin your body the exercise it needs, but also taking care of your body afterwards.
Taking daily supplements and vitamins can help your body get your at-home workout an extra boost your body needs. Making sure you take supplements that help your joints and muscles is very important.